January 7th – January 27th 
│
11:00 -19:00
Blackbird Fly by Antoinette Cauley │
Galerie SLP - BIKINI BERLIN - 1. OG
│2G+ Events│
Free Entry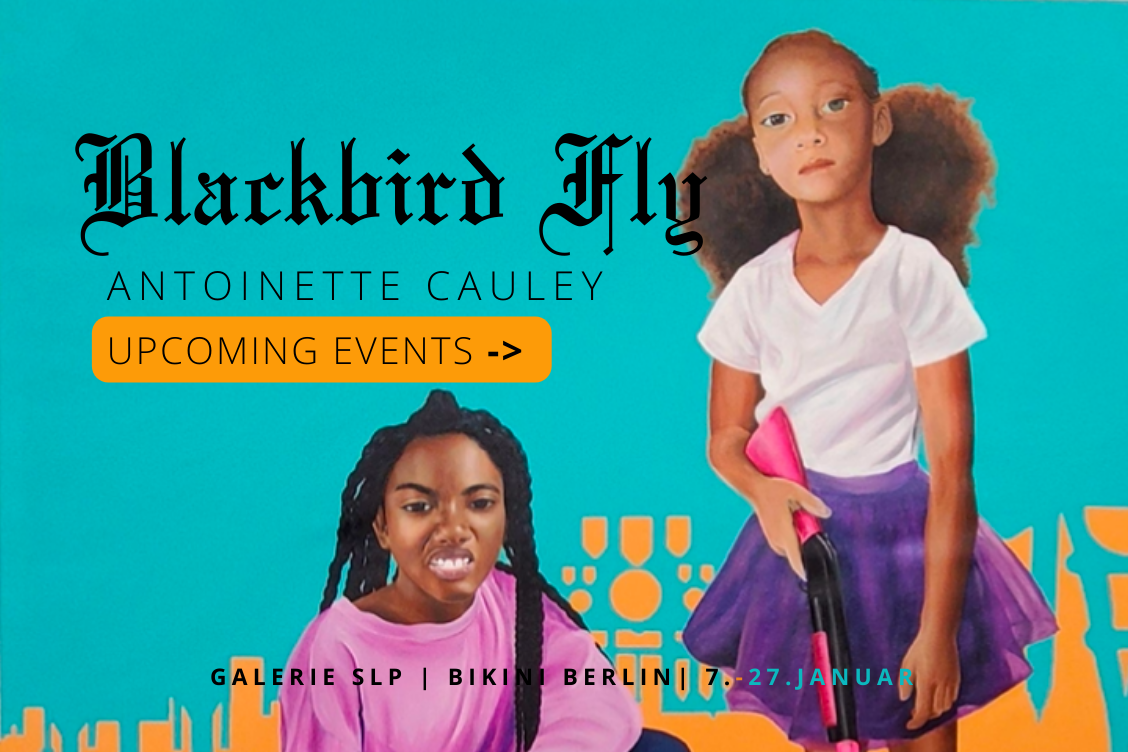 Über:
Blackbird Fly ist eine Untersuchung darüber, wie der Umzug der Künstlerin Antoinette Cauley von Phoenix, Arizona (U.S.A.) nach Berlin, Deutschland während der Covid-19-Pandemie ihre Ansichten über systemischen Rassismus, ihr Heimatland und ihre allgemeine Identität als gemischtrassige Schwarze Frau beeinflusst und umgestaltet hat. Die im Laufe von zwei Jahren entstandene Serie befasst sich mit Kindheitstraumata und psychologischen Auslösern im Zusammenhang mit Verlassenheit, Überleben und übertriebener Unabhängigkeit in der Jugend und deren Verbindung zu Zeit und Ort.
About:
Blackbird Fly is an exploration into how artist Antoinette Cauley's relocation from Phoenix, Arizona (U.S.A.) to Berlin, Germany during the Covid-19 pandemic has influenced and reshaped her views on systemic racism, her home country, and her overall identity as a biracial Black woman. Created during the course of two years, this series delves into childhood trauma and psychological triggers relating to abandonment, survival and hyper independence in youth and their connection to time and place.
December 18th – January 4th, 11:00 - 19:00
​​​​​​​
Eve's Glory by Armand Tamboly │
Galerie SLP - BIKINI BERLIN - 
1. OG
│
Free Entry

Über:
Eve's Glory zeigt Frauen in Uniformen unterschiedlichen Alters und unterschiedlicher Herkunft, die den gleichen Kampfgeist und starke Charaktere haben und auf ihrem Lebens- und Karriereweg Hindernissen trotzen. Die Weltgeschichte hingegen wurde nur von weißen Männern geschrieben, die diese alternative Form der Dokumentation nicht berücksichtigen. Die Uniformen tragen dazu bei, diese Ungerechtigkeit zu vermitteln. Aus der Sicht der Künstlerin haben Frauen schon immer ihre Kämpfe ausgefochten, die sie gewonnen haben; dieses Wissen stammt aus persönlichen Anekdoten. Die in diesem Projekt verwendeten Uniformen stammen aus 12 verschiedenen Ländern, von denen die meisten Kolonien waren.
About:
Eve's Glory showcases women in uniforms of different ages and backgrounds who share the same fighting spirit and strong characters, defying obstacles along their path through life and career. World history on the other hand has been written only by white men who disregard this alternative form of documentation. The uniforms help to communicate this injustice. From the artist's point of view, women have always had fights and struggles that they have won; this knowledge comes from personal anecdotes. The uniforms used in this project are from 12 different countries, the majority of them had colonies.
Dec. 11th - Dec. 16th, 11:00 - 19:00 
Smoking Birds by Moena Weiss​​​​​​​│
Galerie SLP - BIKINI BERLIN - 
1. OG
│
Free Entry

About:
Smoking birds
by Moena Weiss is a collection of portraits which depict an individual's transformation process. The uniqueness of the individual in this process is displayed through the progression of the photos in the series. Moena conveys the inherent beauty in the diverse human experience. She wants the subjects of her portraits to see what she sees through the lens of her camera when looking at their image. The artist is fascinated by the different facets of humanity and how photography can capture a person's way of existing, moving, feeling. To share this process while  taking pictures is one of the most beautiful things for her, because in the end we all want to be seen by others as we are.
Nov. 19th - Dec. 9th, 11:00 - 19:00 
Requiem for a Dollar by Aziya│
Galerie SLP - BIKINI BERLIN - 
1. OG
│
Free Entry

About:
Requiem for a Dollar
 is an exhibition that exposes how the capitalist system is built upon inequality. With the recent Covid 19 epidemic, its flaws became more prominent than ever and inspired Ikhtymbayeva to address questions regarding its core idea: money. She develops the concept of 'souvenir' currency to explore society's shift towards digital currency. This change will render physical money as merely a souvenir from the past; nothing more than a piece of paper which humanity valorized.
Nov. 04 - Nov. 16th, 11:00 - 19:00 
Biophiliac

by Valeria Valdizan 
│
Galerie SLP - BIKINI BERLIN - 
1. OG
│
Free Entry

Having been born and raised in Latin America, I have had the benefit and privilege to be close to the exuberance of nature, where I have found not only a refuge from the contemporary technological scenery but also an approach to my roots as a human being. The contact of humans with nature is something that has accompanied us since the beginning of time and it is also where we will always find our balance as living organisms. Unifying our existence to the natural world is where I think we will find the answers to how to evolve as a society and as individuals.
The climate crisis and the pandemic are strong reminders of the vulnerability of us humans and the planet. Furthermore, in the middle of the digital age, as time passes with the hectic rhythm of the life we ​​lead, we lose more and more sensitivity and direct contact with nature and with other people. With time, all of this dehumanizes us. Now more than ever, we need to create awareness, protect the environment, reconnect with nature, and remember that we are sentient beings. 
We must re-learn to live in harmony with nature and somehow return to that consciousness that has been lost with the advancement of technology and the political systems that we carry.
Through this series of artworks, I try to reflect my personal perception and interpretation of reality and nature. Using photography as a tool and painting as my main medium, I create new images that represent visions of nature from different perspectives. Among many other characteristics that nature possesses, my paintings evoke beauty, abundance, mystery, depth, power, delicacy, strength, and harmony. The use of contrast and strong vibrant colors are the main aspects of my work.
Instagram:  @valvaldizan.art
Oct. 14 - Oct. 30th, 11:00 - 20:00 
Womanhood by Rebekka Macht
│
Galerie SLP - BIKINI BERLIN - 
1. OG
│
Free Entry
About: 
The exhibition Womanhood features  (b.Düsseldorf)  Berlin-based artist, Rebekka Macht. Her large-scale portrait paintings provide an insight into the artist's intimate reflections on the 'woman' label and the realities of being a single mom. Through the perspective of the female gaze, Rebekka uses her own image to explore the representation of women's bodies, their experiences, and single motherhood. This leads her to contemplate how women can grow emotionally and spiritually from these experiences. (Her distinct color palette is inspired by her interest in nature and fashion, and which conveys a simultaneous presence of lightness and heaviness.)
Instagram:  @rebekkamacht
Oct. 7th -  Oct. 13th, 11:00 - 19:00 
The Body Is Our Home by Crissian Chen
│
Galerie SLP - BIKINI BERLIN - 
1. OG
│
Free Entry

T

he Body is Our Home is a mixed media exhibition by emerging Asian-American artist Crissian Chen about self-identity, corporeal spaces, feelings, moments of time, and the liminality of transformations are all elements tied to the body.  How we perceive ourselves lies within the body and how we transcend goes beyond and outward. The body is a vessel of our experiences that reflects loss, struggle, crisis, tranquility, discovery, ecstasy, and impermanence.
​​​​​​​